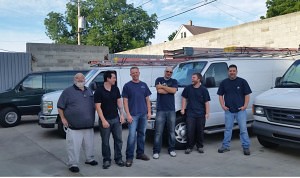 Kelley Communications strives to provide you with excellent products, and even greater customer service. But don't take our word for it. Take a look at our testimonials below:
"Todd and his staff were incredible to work with and were very knowledgeable and helpful. I am very glad to have been referred to them because his installers were extremely professional."

Beth Madunic
Conditioned Air
"Dear Todd,
Kelley Communications has a great reputation for their end product and keeping the project within the time guidelines. The employees conduct themselves on job sites in a very respectable and diplomatic style. There has been no problem with the hiring of Kelley Communications for work since first doing so in 2007. I am looking forward to having them conduct many more projects for us."

William Frahm II
Milwaukee Public Schools
"We really appreciate the excellent work that Kelley Communications performs for our client's infrastructure upgrade projects. Their work always shows fine attention to detail, swift execution, and minimal interruption to the client's operations."

Steve Culver
Computer 911, Incorporated
"Thanks for sub-contracting on our more involved wiring projects, especially at our medical facility customer. Your technicians did a very professional job, cleaned up after themselves, and were very easy to work with.
I especially appreciated the goal-oriented approach, and the willingness of Kelley Communications staff to complete the projects to my satisfaction. The bill rate was very reasonable, I feel your services are a great value for the money!"

Jay Ohman
Ohman Automation Corp.
"I needed to write you to express the great satisfaction I have experienced in working with Kelley Communications, Inc. staff. The technical group at Kelley Communications, Inc. are professional and experienced individuals. The service has been extraordinary and the response for support has been quick and knowledgeable.
Installation was exceptional. The installation technicians were thorough, professional and went the extra mile to ensure the infrastructure was done properly and testing was comprehensive to avoid any problems. Kelley Communications, Inc. staff is creative in solving problems and using building resources efficiently. I am able to hand the plans to Kelley and they design and implement solutions autonomously.
The projects Kelley has handled for me have few complications and the professional, experienced technicians don't waste my time with fundamental questions. They know their business and get the job done.
I have worked with many communication companies as a network consultant and engineer and for my money Kelley Communications, Inc. is the superior choice."

Sincerely,
Raymond J. Krahn
Network Engineer
Krahn Consulting, LLC
"The staff at Kelley Communications are great to work with. Very professional and always ready to help. They definitely know their subject matter, and showed us what the sound systems would perform like, and how the different cameras would look on screen, while satisfactorily answering all the questions posed to them. Not only with all that, out of three quotes we sent to other vendors, Kelley were by far the most competitive. I would absolutely recommend you consider Kelley Communications for your next project, or day to day needs."

Gary Nutbeam
Owner
Across The Big Pond, LLC
"Kelley Communications installed a Lorex NVR NR900X for our company. It is beyond our expectations. The service was great and the installers were incredible. They answered all of our questions and made changes for us on the fly. The installers did an extremely clean job running wires and kept things very clean. The camera system itself is far beyond what I expected. Everything just simply works and is reliable."

Arik Burns
"Our company has been using Kelly Communications for years. They've installed many camera systems in properties we own. They're a super easy company to work with. Amazing service, they do exactly what they say they're going to do, show up when scheduled and clean up when they're finished."

Reid Kaplan
Broker Associate/ Realtor
Re/Max Estate Properties
"On rather short notice we needed ceiling ap and outdoor antennas mounted in outdoor project and Kelley Communication was reasonable and did a great job first time with no issues. Great team and easy to work with. Would recommend and use without hesitation."

Tom Uyehara
Managing Partner
TevetronRe/Max Estate Properties
"I was fortunate to find Kelley Communications for a project I was managing from out of state. They were extremely reasonable in their quote and were better than their word. They are not only my low voltage contractor of choice in Milwaukee but a trusted advisor. If you don't at least consider Kelley Communications for your next project you are doing your organization a disservice."

Rob Sutton
"I've worked with a number of the employees at Kelley Communications but I've mainly been in contact with Jacob and Todd. They've been great to work with and I will continue to do business with them for some time to come!"

Nick Kay
"This is a wonderful company to do business with. The site survey, solution and installation were all professionally done. I highly recommend them."

Todd Schmitt
Software Consultant
Centare
"Great service with a great staff, I have nothing but good things to say about this company, they really went above and beyond to get the job done right!"

Phillip B
"Very professional place."

Angelo Morales